Construction of the second phase of the development consisting of a new wharf and stockpile facility adjacent to the deposit, began in Spring 1997 and was completed by 2000. This expansion, together with a new 200 metre long access tunnel from the wharf to the deposit allows marble to be mined and crushed using equipment adjacent to the tunnel entrance. Marble products are stockpiled adjacent to the wharf prior to ship loading.

A loading system with 900 tonnes/hr make sure that the vessels are loaded efficiently. The quary is suitable for vessels of up to 8.000 tonnes and is ice free all year.




Production&Logistics
An investigation of possible alternative exploitation techniques for the development of the Hestvika deposit confirmed that underground mining would maximise the available reserve, estimated to be 10 million tonnes, and would be the most efficient and environmentally acceptable extraction method. Several underground mining schemes have been considered based on a comprehensive assesment of the geotechnical properties of the marble and full-face, stopping-type approach is currently being adopted. The first phase of site preparation and underground mining began in Autumn 1994.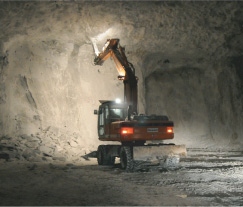 A large diameter access tunnel was developed for a distance of several hundred metres in the upper section of the deposit. Additional tunnels are being extended from this main drive to higher and lower levels within the marble horizon. Careful monitoring ensures that mining is carried out with minimal contamination thereby maintaining the escellent quality of the material.
A primary prosessing system with a capacity of approximately 100.000 tpa was installed near the tunnel entrance. Marble was transported from the underground workings to the plant by mine dumpers.